"I am bad at this" or "I will never learn how to do this." Those are phrases you may have heard your child say at least once, if not several times. You may have heard these phrases while your child was practicing a new sport, working on their homework, or while they were attempting to learn to play a musical instrument. Sometimes children doubt their ability to learn something new or complete a challenging task. In these moments, they lack self-efficacy, which is an individual's perceptions about their capabilities to perform at an expected level, achieve goals, and complete moderately challenging tasks (Noonan & Gaumer Erickson, 2018, p. 23). For elementary children, we define self-efficacy as "believing you can do hard things" (Heger et al., 2022).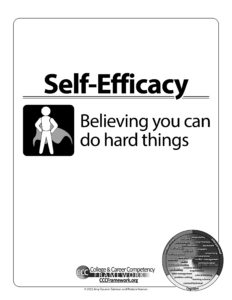 Watch this 4-minute video to learn more about what it means to have strong self-efficacy and why it is important to support children in developing it.
When you notice your child giving up easily or avoiding a challenge, it is likely because they don't believe they can learn or do it. They may not understand that learning and improving our abilities is a process that requires effort. As parents, we want to help our children believe in their abilities to do hard things and increase their self-confidence. Children who develop strong self-efficacy reap many benefits.
Children with strong self-efficacy are more engaged in learning and willing to take on more challenging tasks. They adjust more easily to new grade levels and recover more quickly from setbacks. As you read through this module, you will learn three strategies that you can use to help your child feel more confident and build their belief that they can do hard things.
Strategy 1: Exercise My Brain
Teaching your child about the brain can help them understand that intelligence isn't fixed. To build your child's belief that they can do hard things, help them understand what happens to the brain when we make mistakes in our learning, think about what we did wrong, and attempt the task again. The brain is a muscle, and when we practice something and analyze our mistakes to determine how to improve, we are strengthening the pathways in our brain. The scientific term is neuroplasticity. When your child practices a concept, makes a mistake and uses those mistakes to improve, they are strengthening their brain and growing their intelligence. Understanding the concept of neuroplasticity, will help your child have a growth mindset about learning. You can help your child understand the strategy exercise my brain by watching the video The Truth About the Brain with them and discussing they key points.
After watching the video, ask your child to think about something challenging they have recently learned to do. Ask your child:
What did it feel like when you were first learning __________?
What did you do or say to yourself to help you keep learning?
Now that you know what happens when you exercise your brain, what will you say to yourself the next time you want to learn something challenging?
Supporting your child in understanding the strategy exercise my brain will help them understand that learning something new is often hard work and takes multiple attempts. They will also recognize that practicing a task or concept many times is making their brain stronger!
Strategy 2: Remember the Hard Things I Have Done
Another strategy you can use to build your child's belief that they can do hard things is to help them remember the challenging things they have learned in the past, like playing a musical instrument, memorizing their multiplication facts, or reading a chapter book. When children consider the hard things they have learned to do in the past (and how they accomplished them), they can use that knowledge to build their confidence as they begin to learn new challenging concepts.
An important part of using our past successes to build our confidence in the present is to understand that making mistakes or struggling with something isn't a bad thing; in fact, it's normal. Help your child understand that they have learned to do something challenging by focusing on their effort and practicing. What was once very difficult for them is now much easier. You can support your child in understanding this strategy by providing your own examples of something you learned to do that was very challenging when you began but that, after effort and practice, you learned to do.
Providing your child with a visual reminder of the hard things they have learned to do will help your child understand that with effort and practice, they have learned to do many difficult things. This will build their self-efficacy as they attempt to learn new and challenging things. You can create a Mastery Log similar to the one below and display it in your home. Your child should record challenging things they learn to do on the chart. Each time they master a new concept, encourage them to add it to the chart and discuss how they were able to persist in learning it. Remind your child that they will experience many more challenges, and each time they do, they should remember the entries they made on the chart and think about how they accomplished those.
Strategy 3: Give and Accept Feedback
Your child can improve your child's self-efficacy by understanding how to give and accept feedback as they are learning something. Giving and receiving specific feedback will help them build their self-efficacy because it increases self-awareness and helps them understand their areas of strength and challenge. When your child understands how to apply suggestions, corrections, or ideas that others provide, they are using that information to improve their learning. When children receive praise and feedback from others, it can be difficult for them to know how to respond. They may respond by taking the feedback personally, become angry, and argue with the person giving the feedback. It can also be difficult for children to receive praise. They may respond by belittling themselves and using phrases like "No, my work is not that good" or "I don't think it looks good" when they should respond with appreciation by simply saying, "Thank you."
Watch the read-aloud video Thanks for the Feedback, I Think by Julia Cook and discuss the various ways RJ responds to feedback. Sometimes he becomes angry, sometimes he responds shyly, and sometimes he doesn't understand. As you watch the video, talk about each of the instances and how RJ could have responded in each situation. Ask your child to reflect on each of the situations that RJ experiences and determine if they have ever responded or felt like RJ.
Once you have talked to your child about how to receive feedback and praise, it is important that they practice giving good feedback and praise to others. The chart below will help you support you child in learning how to give praise and feedback to others. Review the chart below with your child.
A fun way to reinforce this strategy is to ask your child to teach you something they have learned to do, like playing a video game, drawing an animal. Ask your child to provide you with praise and feedback that falls under the Do column of the chart.
Next Steps
Download the Self-Efficacy Resources for Home Learning from the http://www.cccframework.org/ website to learn more about how to support building self-efficacy in your home.
Help your child to deepen their understanding of the strategy exercise my brain by watching Your Fantastic Elastic Brain and encourage them to reflect on how much their brain is growing by considering how much easier new concepts are becoming each time they practice them.
Help your child practice the strategy remember the hard things I have done by continuing to add to the Mastery Log each time they learn a new skill or complete a challenging task. Remember that the Mastery Log can include academically based concepts, such as writing a paragraph or mastering their math facts, but it can also include personal tasks your child wants to learn, like following a recipe or playing a sport. Refer back to this when your child is struggling to learn something new and remind them that with effort and practice, they can learn new and challenging things.
Watch the video How to Praise and Encourage Your Kids and consider how you might transform the praise and feedback you give to your child.
Show your child our Elementary Self-Efficacy Videos. The videos in this series explain each of the ten Self-Efficacy Strategies in child-friendly language.
Other resources for home learning are available when you download the Self-Efficacy Resources for Home Learning from the https://www.cccframework.org/ website.